High quality windows and doors
For new construction and renovations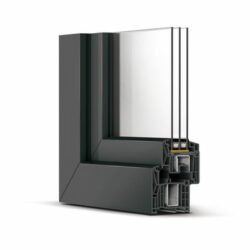 In both new construction and renovation, several points play a supporting role for windows. In addition to appearance, sound insulation and security, many people are particularly concerned about energy efficiency.
Because a lot of energy is lost through poorly insulated windows. That is why we use triple-glazed brand-name windows from our cooperation partners as standard – regardless of whether you are building a new house or renovating an existing one. This gives you windows that achieve U-values of up to 0.75.
We help you from A-Z with your "New windows for your home" project. What do we mean by that? We accompany you from the measurement to the installation. This means that you don't just send us your measurements and we deliver the windows to you, but as we said: we take you by the hand from start to finish.
This includes, above all, our partner network, through which we can offer a wide range of products at a very good price.
Our portfolio
Windows and doors
Triple glazed for optimal soundproofing and top-insulated
Modern entrance doors for more sustainability, security and comfort
Comfortable solutions as access to the balcony or garden
Skylights for more daylight and optimal ventilation
Roller shutters, venetian blinds, etc. to com­plement your windows
In 7 steps to the realization of your project

1. Configurator
So that we can make you a suitable offer as quickly as possible, use our configurator to let us know how many windows, front doors or other products or services you would like to order.

2. We contact you
Our consultants will contact you to discuss further details.

3. We create the offer
After we have contacted you, you will receive your personal offer from us.

4. You confirm the offer
If everything fits and you like the offer, confirm our offer.

5. We start production
All the necessary steps will now be taken to ensure that you receive your products on the date you want.

6. Delivery date
After the production has been completed, we coordinate the fastest possible delivery with the transport company and then inform you directly about the delivery date.

7. Delivery / assembly
We will deliver your desired products to you. If you have booked an additional service, such as assembly, this will be carried out on the agreed date.
Windows configurator
The fastest way to your offer
With the information you provide, we are well prepared for our contact with you in order to be able to help you directly and in a targeted manner.
Step 1

Step 2

Step 3

Step 4

Your contact details
How many windows do you need?
Doors and other additional services
Do you need front doors and/or terrace or balcony doors?
Do you need additional accessories?
Information about the object
Is it a renovation or a new build?
Desired delivery time
When do you want the delivery?
features
What is most important to you?
Service options
Do you need an additional service?
Any questions?
Contact form